Developing Oral Calcitonin for the Treatment and Prevention of Osteoporosis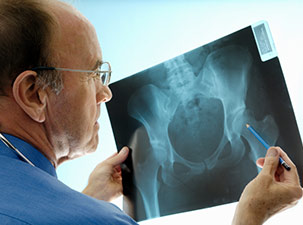 Osteoporosis, a condition in which the bones become weak, brittle and prone to fracture, is the most common disease of bone in adults. An estimated 10 million people in the U S. have osteoporosis and 34 million more have low bone mass (osteopenia) that puts them at risk of the disease. Osteoporosis may be caused by excessive bone resorption (break down), especially in postmenopausal women. Calcitonin, a naturally occurring peptide hormone that is present in most vertebrates, binds to specific receptors on bone cells known as osteoclasts and prevents the bone from being resorbed. Tarsa Therapeutics has developed TBRIA™ (calcitonin-salmon [rDNA origin] delayed release tablets), an oral formulation of calcitonin for the treatment of postmenopausal osteoporosis, and is seeking FDA approval. TBRIA contains salmon calcitonin, a peptide that is manufactured using recombinant DNA technology.
Because it is a more potent agent than human calcitonin, salmon calcitonin has been used for decades as a therapeutic agent for osteoporosis, but it has only been available in injectable and intranasal formulations.  If approved, Tarsa's oral calcitonin tablet has the potential to provide calcitonin's proven safety and efficacy with the major advantage of once-daily oral dosing. Tarsa's Phase III clinical trial—the ORACAL study—assessing TBRIA as a treatment for postmenopausal osteoporosis, yielded positive safety and efficacy results. Tarsa has submitted a New Drug Application (NDA) to the U.S. Food & Drug Administration (FDA) for TBRIA as a treatment for postmenopausal osteoporosis in women at least 5 years postmenopause. Tarsa has also completed a Phase II study in women with osteopenia at increased risk of fracture and is considering future development options for this indication.
News and Events